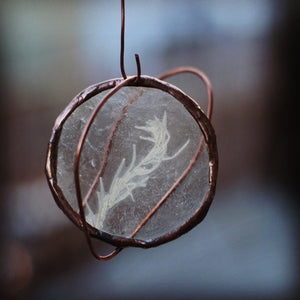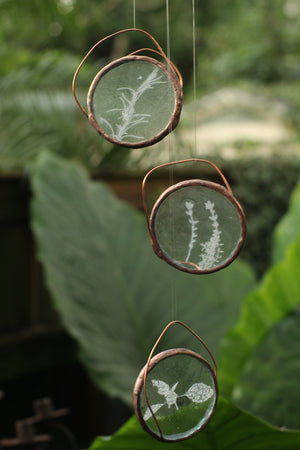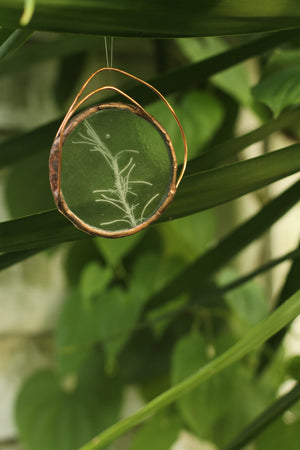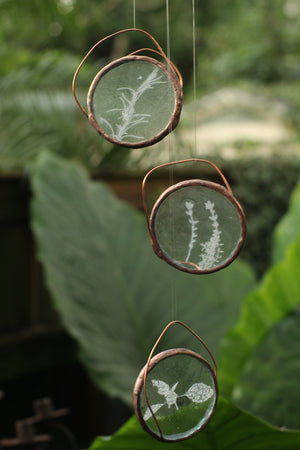 Rosemary Ornament
Rosemary, a symbol of constancy, fidelity, memory, protection, enduring love, lust, mental powers, exorcism, purification, healing, sleep, youth.
The perfect gift for yourself and others, these glass ornaments were lovingly handcrafted by Caitlin Ezell Waugh. Each contains a plant cutting placed between two pieces of glass and kiln fused. The kiln process, EnverreTM, preserves the delicate remains of the plant, which are soldered into intimate sculptures with copper wire.

While made of glass, these small sculptures are sturdy. The glass rounds are 3" in diameter.  Each piece comes with a small card identifying the plant and what it symbolizes (the symbolism included is chosen when more than one culture agrees upon it).
Pricing available for bulk pricing (6 or more).
Please request a handwritten gift note if you would like one.
If you would like an ornament made of a specific plant not included here, or a plant you provide from your garden or special event, please email caitlin@caitlinwaugh.com