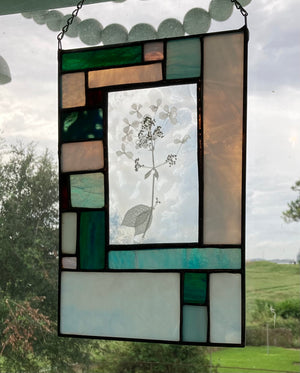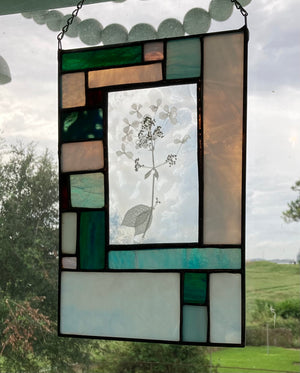 Hydrangea Stained Glass Panel
Hydrangea is a symbol of gratitude for being understood.
13"x 8.5" 
This handmade piece features a sprig oh hydrangea kiln-fused in glass and soldered within a stained glass design. These small and medium sized panes are much like quilts — they are made of cherished scraps of glass saved from larger custom designs. The panel is framed and hung with zinc u-came and double jack chain that is easy to adjust when installing.
Every Enverre botanical piece comes with a card identifying the plant and what it symbolizes.
Please request a handwritten gift note if you would like one.
If you would like a custom panel in a different color, size, made of a specific plant not included here, or a plant you provide from your garden or special event, please email caitlin@caitlinwaugh.com